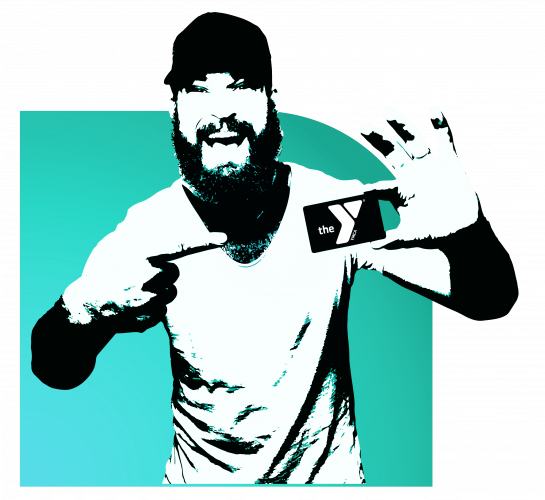 Membership
When you join the YMCA, you'll discover new ways to connect with your potential, purpose and community. No matter where you are on your journey, the Y is where you can belong and thrive.
Membership at the Y opens the door to new experiences and ways to positively impact your community and enrich your life. With opportunities to give back, improve your health and make connections, the benefits of membership are far-reaching.

Corporate Membership


Financial Assistance


Why Choose The YMCA?

Membership Forms
Adults
Fill out an application today!
Family
Fill out an application today!
Single Parent Family
Fill out an application today!
Senior
Fill out an application today!
Senior Family
Fill out an application today!
Youth Birth to 12
Fill out an application today!
Teens
Fill out an application today!
College
Fill out an application today!
Silver Sneakers
Fill out an application today!
View Form

View our Membership Price Chart!

Corporate Membership
Fee includes: 1 Free Family Membership + Corporate rates for employees
This expense is paid annually, if the Corporation does not renew membership each year, the membership discount will end
Why your company should join our Y: Corporate Membership

20% off membership

Payment options available

YMCA can provide company usage reports

Group exercise classes

Adult Locker rooms with amenities

Complimentary Fitness Orientation

Complimentary Child Watch during exercise for Family Members

Multiple Fitness Centers

Youth Fitness Orientations

Open Gym- Including Basketball & Pickleball

Program Discounts

FREE WiFi

Variety of Youth Programs with Membership Discounts

Membership Reciprocity at YMCA's across the country
Financial assistance for memberships
The Bloomsburg Area YMCA provides financial assistance for children, teens, adults and families who cannot afford the full cost of a Y membership. If you are looking for financial assistance for YMCA programs, we offer that too.
We use a sliding fee scale based on total household income and the number of household members. We require supporting documentation to verify household size and income, and we consider special circumstances when providing assistance.
Recipients are expected to be responsible for a percentage of the membership cost. Qualification for YMCA financial assistance for membership required to be resubmitted each year.
Complete the form, and attach a copy of your most recent tax return and/ or required financial documents. Return the application and supporting documents to the Bloomsburg Area YMCA.
Financial assistance at the YMCA
At the Y, we believe in breaking down barriers that can limit access to a healthy life. If you are unable to afford the full cost of a membership, we want to help. That's why we offer financial assistance for YMCA membership and programs. Based on an individual or family's circumstances, financial assistance may cover some of your membership fees!
Why Choose the y?
The Bloomsburg Area YMCA has programs, classes, and activities that bring a healthy lifestyle within reach for people of all ages. We help kids up to elementary ages develop active habits, reducing childhood obesity in our community. Group aerobic classes, dedicated personal trainers, and fitness equipment for all skill levels help adults stay active, and our childcare hours help parents achieve their goals while knowing their kids are in good hands. Specialized classes for geriatric fitness and seasonal potluck events help our seniors stay active in their community as well as staying physically fit.
Find your "Y" at the Bloomsburg Area YMCA!
Financial Assistance may cover as much as 60% of your membership fees! Stop by the Y to learn how we can help you and your family achieve the fit lifestyle you want without breaking the bank.
You may already be eligible for a discounted membership based on your job! Check out our corporate discount groups to see if you qualify!